Welcome to Binougami ga Wiki!


This is a slowly growing database dedicated to Binbougami ga.
There are currently 44 pages and a circulating total of 1,405 edits.
Anyone is free to edit and help expand our knowledge of the series.

---
You Already Have the Answer

Deciding she likes Momiji the way she is, Ichiko grabs her and, with help from Ranmaru and Bobby, they make their escape from Kumagai and Momou on a delivery truck. As they give chase, Ranmaru stays behind to fend off Momou whilst Ichiko, armed with some power enhancing beads given to her by Bobby, fights against Kumagai to allow Momiji to escape. It is her that Kumagai tells her that if Momiji doesn't regain her powers by sunset, she will remain a human forever whilst the old Momiji will die. After some encouragement from Keita, Ichiko catches up to Momiji, who is being cornered on a bridge by Kumagai. As the wind blows Momiji off the bridge, Ichiko catches her, making the decision to drop her onto a garbage boat and return her to her normal self, resuming their love/hate relationship.
More on the Episode...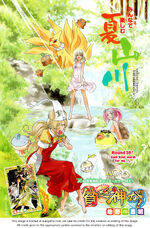 Round 38: "Such kind words for me..."

Coming soon...
More on the Chapter...
If you would like to become an affiliate of the Binbougami Ga Wiki, contact Cleardrop!